Gardens - Paintings of the beauty in plants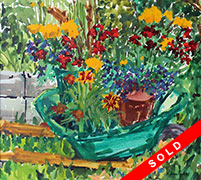 "The Wheelbarrow"
Living in Ottawa with its special and unique neighbourhoods, our gardens overflowed into the parks and canals. These special gardens, some of them belonging to my neighbours and friends influenced a series of paintings. I particularly loved the garden benches, the wheelbarrows and potted plants placed by the garden sheds.
The Garden Series of paintings feature my love of the glorious variety of the plants, flowers and trees during the changing four seasons.
"A painting is never finished it simply stops in interesting places." Paul Gardner – quote from the Artist's Way
You could say that I stopped to smell the roses. One of the first lessons of becoming an artist is looking for inspiration, creating is the gift of observation. What I taught my students when I was a teacher was that their art work could be inspired by what was all around them. Some of the most interesting places to paint can be as close as your own backyard.
Gallery - Watercolour paintings from beautiful Gardens
click images to enlarge